A Portrait - A Formal Portrait - Other Commissions
It all starts with an idea, desire, or need to remember someone or something.
"I'm interested. How do I commission art?"
I'm glad you asked!
This page is for you.
If you want pricing structures for portraits of people, please click here. Commissions of landscape and still life subjects are handled differently. Just ask.
How You Can Commission an Heirloom
A Portrait - A Formal Portrait - Other Commissions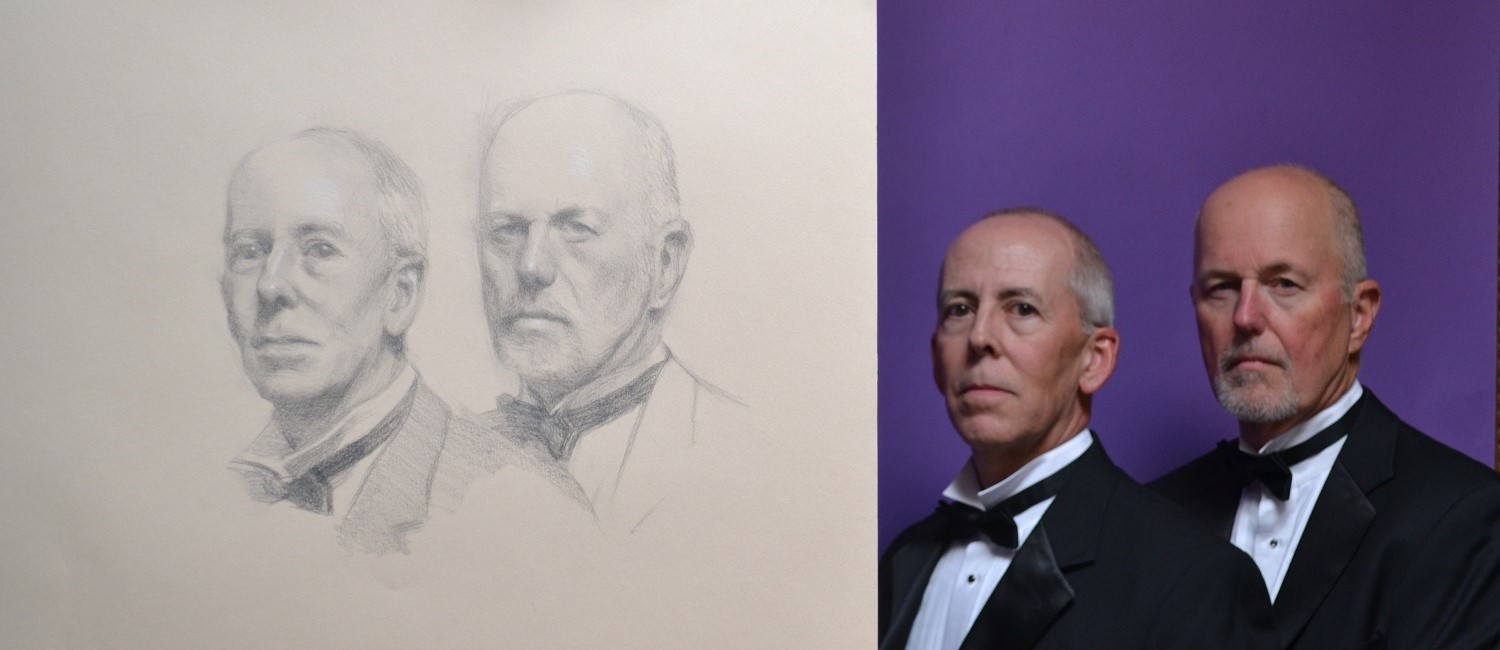 Many portrait commissions come from a person or family and we negotiate with or without a representative.
You call or write, we talk over the phone or in person about your idea, size, how formal or informal etc. I make certain that we both understand the variables. Everything is decided mutually. When we come to an agreement, I have a contract that we sign. The contract will give the size and medium and details about your expectations. We can write in some concepts as variables, e.g. "a head and shoulders portrait between 16×20 inches and 24×30 inches", if we want room to be imprecise and it won't necessarily affect the budget. I ask for a small, non-refundable retainer to cover my initial expenses and the materials out of the first 30% due at the photo session or first sitting.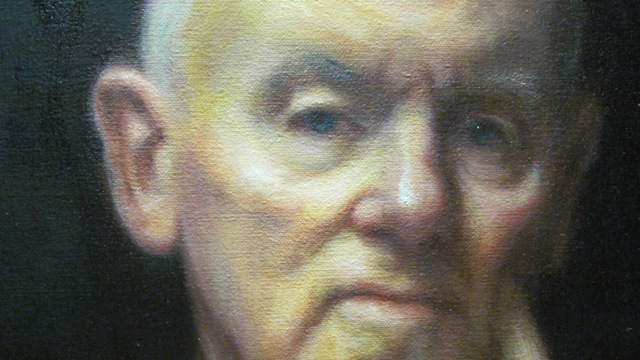 The Grand Rapids Catholic Diocese works with art liaisons that negotiate ideas and find artists for projects. Their designer contacted an art specialist, Art Endeavors. The art specialist had seen my work previously and knew that I'd be able to paint a portrait of the retiring bishop that would display well with the portraits of previous bishops (see images above).
Brenda from Art Endeavors scheduled a meeting with the bishop and staff that would be participating in the project. Brenda and I met together beforehand to be sure that we understood what information the diocese would be needing from us to move the project forward. We brought a contract that explained what I'd be offering, how much time it would take, and how many sittings I'd need or want, and where we would meet. Then we moved on to ideas about the specific painting. How large should it be? Where would it be hanging? What vestments would Bishop wear? Could I paint his insignia in a top corner?
In this instance, Brenda did the arrangements and set up the meetings and took care of the paperwork. I asked Bishop Hurley if he could sit for a two or three hour photo session and composition set up. Then I asked him to come two more times for approximately two hours at a time, for refining the painting from life. In the photo on the left, you can see that I had a green drapery. I didn't care for it, so I painted it out and put his insignia in that corner instead. Throughout the process, I sent images of the work. We also started talking about the budget for the frame. The diocese wanted a well-made frame that would fit in with the building, the portrait, and the other artwork. I sent them pictures of frame moldings that I suggested, along with the time and cost estimates, and the diocese chose one and I ordered it. The diocese exhibited the painting in a substitute frame and then had the custom frame put on at a local framing gallery and hung. I varnished the painting on location three to six months later, and after waiting a day, they rehung the painting and the project was officially finished.
For more pricing and process details Click Here.
Sometimes someone will fall in love with a piece only to find that it is already sold!
I have painted pieces that are similar to them and give the interested collector the first look and chance to buy the new work. Some pieces are by request. For example, I have had numerous requests for peony paintings or paintings of a particular size to compliment a previous purchase.
Sometimes I am given objects to use in a painting or asked to paint a certain view or setting. One landscape request was for a wedding gift. I was asked to paint the harbor where the couple had gotten officially engaged and had spent time together.
If the subject is something in keeping with my style-I'll consider it! I may ask for part of the cost up front, but these pieces are treated more like a standard art purchase than a portrait commission.
Interested? Click Here to Contact Me and let me know you'd like to talk about a commissioned subject or painting series.